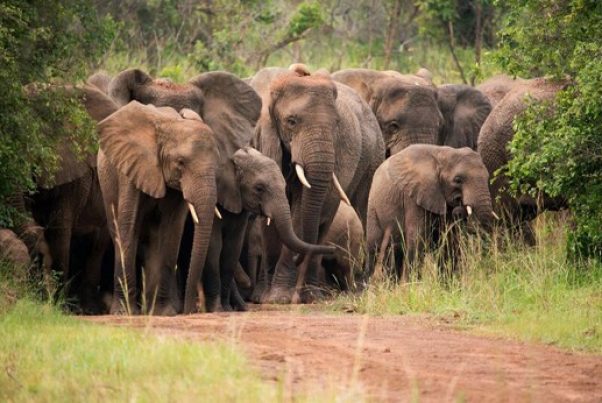 Are you planning to visit Rwanda? And your travel is aimed to stop in Kigali City and looking for a tourist place to go and explore wildlife in Rwanda. There are several tourist places to visit in Rwanda which include the Volcanoes, Nyungwe and Akagera National Park.
Last year I and my friend visited Rwanda for the business trip and after our business trip we opted to see the mountain gorillas in mist that our friend had told us about, and even upon our arrival at the Kigali Airport we saw amazing screen advertise showing the mountain gorilla in Volcanoes National Park. After our 3 days stay in the city we started looking for the company that could arrange for us this trip a bit affordable and in mind we had the Eco Tours Rwanda that we had heard about from our friend Kris. My friend Katie contacted some companies and we took like 2 days without hearing from them.
Later, we contacted the very company that our friend Kris used and though he told us he traveled luxury we contacted the company and we told them our budget and within few minutes a response from this company's travel consultant "Moses" sent a very detailed package and the very competitive quote than what expected and this gave us confidence and we paid for our trip.
We booked a 5 Day trip visiting the Volcanoes and Nyungwe Forest National Park, though our intention was to take a 3 day trip but when Moses explained to us that as it is low season in Rwanda that is from November to May we can get a discounted gorilla permit of $ 1050 USD per person visiting both parks. Our trip was not so expensive though we stayed in good deluxe lodges like the Five Volcanoes Boutique Hotel in Volcanoes and Nyungwe Hill Top View Hotel in Nyungwe Forest National Park and here we did the chimpanzees and the canopy walk and after as on our way back to Kigali we took 01 hour stop in Butare for the Intore dance and this was so amazing to experience and i highly recommend to every one visiting Rwanda.
Back on point, this time on our visit in Rwanda we decided to go to Akagera National Park and since we did not have enough time we did a 2 day excursion tour and our guide was so amazing in terms of riding, guide and general knowledge about the park and the country.
Akagera National Park lies in eastern Rwanda, hugging the border with Tanzania. It's characterized by woodland, swamps, low mountains and savannah. The varied terrain shelters wildlife including zebras, giraffes, elephants, lions and hundreds of bird species, such as the rare shoe bill stork. In the southern part of the park, vast Lake Ihema is home to hippos and crocodiles.
On day one we left Kigali at around 07 am and we drove through the undulating landscapes of the country, community homesteads and green covers. Then upon arrival into the park we took en-route game looking for the African wildlife species and in this park much is spotted as this park is a wildlife corridor from the Tanzanian parks. After the game drive we had to go to our lodge for lunch and since our travel was on a bit tight budget we stayed at Akagera Game Lodge and we took a humble relax at our balcony room and then in the evening we took the sun set boat cruise along the Lake Ihema.
After the boat cruise and viewing more wildlife like elephants, buffaloes, crocodiles, hippos and birds at the shores of the Lake, we returned to our contemporary room at the Akagera Game Lodge and if you are visiting this park and you want to stay luxury there is Ruzizi Tented Camp and the Magashi Tented Camp.